Vote for my blogging scholarship - only takes seconds!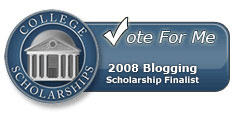 Hey AmP fans, please take a
couple seconds
right now and
vote for me
("Thomas Peters") in the 2008 student blogging contest.
Last year I
won 4th place in this contest
- when AmP had only a third of its current readership! Whatever funds I win will go directly to
paying down my student loans
. If I win 3rd place, that's $1,000 less I have to pay. First place? $10,000! So tell your friends, too. Thanks! :)
update:
My humble thanks to
the inestimable Fr. Z
and other bloggers/readers who have made this cause their own, not because of who I am, but for the common cause and faith which unites us. God bless you!